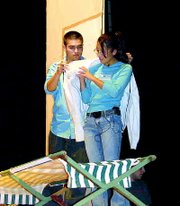 When Drama Club Advisor Maisy Sylling began looking through scripts for this fall's Sunnyside High School production, she wasn't looking for anything in particular.
Sylling said her only rule when it comes to selecting a script is that the Drama Club performs a traditional play in the fall and a musical in the spring.
This fall, the Drama Club will be performing "The Diary of Anne Frank."
"I looked at more than 10 scripts and I kept going back to 'The Diary of Anne Frank' because of how profound it is and the impact I thought it could have on the community," Sylling said.
"The Diary of Anne Frank" is the story of a Jewish family living in Nazi-occupied Holland. The family, including Anne Frank, is forced to go into hiding and try to survive without being detected, while hoping the Allies will liberate Holland.
Sylling said the production has proven to be challenging to the Sunnyside High School Drama Club in several ways. She said the play, which includes a small cast of only 13, means that each of the cast members has a lot more to remember.
Sylling said it's also challenging for students to take on the roles of older characters.
"But they have really stepped up to the challenge," Sylling said of her cast.
She added that putting on a production of "The Diary of Anne Frank" also means playing characters that are real people. Sylling said this has taught her students that they have to be both respectful and responsible in portraying the characters in the play.
Sylling said this season it was easy to find the right students to cast in just the right roles. She noted that a lot of students tried out for parts in the fall production, which meant she had a lot of choices when it came to casting.
"We were able to find the kids who really fit the roles," she said.
CaSandra Romero will be playing the role of Anne Frank. Other cast members include, Samuel Wise as Otto Frank; Jill Jetter as Edith Frank; Lacey Yanez as Margot Frank; Cassie Herndon as Miep Gies; Tony Magana as Peter Van Daan; David Knee as Mr. Kraler; Katie Bingham as Mrs. Van Daan; Jake Brandvold as Mr. Van Daan; Matt Barr as Mr. Dussel; Dan Albrecht as First Man; Tyler Carpenter as Second Man; and Jacob Kresse as Third Man.
Despite having a cast of only 13, there are still a number of people working behind the scenes to ensure that the show goes on. Sylling said nearly 30 crew members are working hard to make sure things go smoothly off stage.
She added that a part of this has included working to make sure that the scenery is ready for opening night, which is just one week away.
One of the reasons there has been such a time crunch when it comes to preparing the scenery is because the cast and crew will have had only five weeks total to put the production together.
"This is the shortest rehearsal time we've every had for a show," Sylling said.
"The Diary of Anne Frank" will be presented Friday and Saturday, Oct. 7 and 8, and Friday, Oct. 14, at 7 p.m. at the Sunnyside High School auditorium. Tickets for the show are $5 for adults and $3 for students and senior citizens.