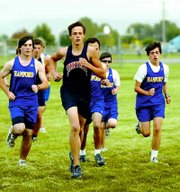 Hanford's girls team claimed the top three individual spots and the Ellensburg boys squad had three runners among the top seven finishers to dominate the only high school cross country competition of the season hosted by the Sunnyside Grizzly harriers.
Thursday's Mid-Valley League meet drew four schools-Selah being the other.
Running on Sunnyside's extremely flat 4,900-meter course, Isak Bergman of Ellensburg was the lone harrier to cruise to the finish line in under 17 minutes. He clocked a time of 16:54, 13 seconds quicker than the boys race runner-up, Selah's Steven Schramm. Hanford's Lance Kindle was 11 seconds back of Schramm to earn third place honors.
The top boys finisher for the host Grizzlies was Sterling Scott. He clocked a 17:51 to place eighth. The next highest finisher for Sunnyside was Gilberto Villalobos, placing 15th from the 85-person field with a time of 19:15.
In yesterday's girls race, Hanford's Megan Dart, Anne Staeheli and Haley Tank were the class of the field-which totaled 52 female runners. The trio placed first, second and third, respectively, with times of 20:49, 21:06 and 21:19.
Sunnyside's Britany Messmore was the next to cross the finish line in the girls race, placing fourth overall with a clocking of 22:29. She edged the fifth place finisher, Hanford's Amanda Lopez, by a single second.
Team scoring-wise, the Sunnyside boys were edged by Selah 26-31, and lost to Hanford by a 17-45 score. There was no scoring kept between Sunnyside and Ellensburg, as the two teams had already competed against one another earlier this season.
In the girls team scoring, Selah claimed a 20-39 victory over Sunnyside, and Hanford bested the Lady Grizzlies 17-46.
Boys race
1) Isak Bergman -E 16:54
2) Steven Schramm-Se 17:07
3) Lance Kindle-H 17:18
4) Birkin Owart-E 17:24
5) Sean Baide-H 17:38
6) Keefe Brockman-H 17:45
7) Jeff Jorgensen-E 17:49
8) Sterling Scott-Su 17:51
9) Oscar Martinez-Se 17:52
10) Jordan Stewart-H 18:12
11) Joey Jones-E 18:27
12) Matt nodine-E 18:29
13) Jeff Smith-H 18:36
14) Tim Richard-H 18:53
15) Gilberto Villalobos-Su 19:15
16) Patrick Spanner-H 19:17
17) Leni Garcia-Se 19:20
18) Mac Powers-H 19:22
19) Joel Gaspar-Su 19:25
20) Jacob Rogers-Su 19:25
21) Jarrik Farrand-E 19:27
22) James Lydin-Se 19:28
23) Cavan Olson-E 19:30
24) Kaleb Pulsipher-H 19:31
25) Kevin Carns-E 19:33
35) Sam Bardell-Su 20:19
37) Adrian Licea-Su 20:33
38) Mathew Martinez-Su 20:34
39) J.T. Gonzalez-Su 20:36
44) Zeke Galvan-Su 20:54
65) Andrew Swinehart-Su 22:50
74) Danny Negrete-Su 24:08
75) Roy Haringa-Su 24:15
78) David Salmeron-Su 24:20
80) Mario Bucio-Su 25:19
81) Dane Schmick-Su 25:40
84) Tristan Abbott-Su 26:08
85) Alexander Badger-Su 26:08
Girls race
1) Megan Dart-H 20:49
2) Anne Staeheli-H 21:06
3) Haley Tank-H 21:19
4) Britany Messmore-Su 22:29
5) Amanda Lopez-H 22:30
6) Jenna Winterfeld-Se 22:48
7) Kanpapha Bovor'ai-H 22:57
8) Stephanie Cooke-E 23:10
9) Shene Davis-Se 23:43
10) Carolyn Dulaney-H 23:55
11) Sara Garcia-Se 23:59
12) Morgen Anyan-Se 24:14
13) Claudia Figueroa-Se 24:24
14) Jami Beed-E 24:42
15) Natalie Idler-E 24:44
16) Harper Miller-E 24:45
17) Holly Thorpe-E 25:14
18) Katie Briggs-H 25:52
19) Nichole Ashby-Se 26:01
20) Madeleine Brown-E 26:17
21) Maria Montero-Su 26:23
22) SuYeon Lee-H 26:27
23) Rosie Lopez-Su 26:35
24) Paloma Carrillo-Su 26:51
25) Jessie Jenkins-H 26:58
30) Alejandra Alvarado-Su 27:30
31) Angie Ruiz-Su 27:30
33) Brenda Alcantar-Su 28:00
34) Kelsea Means-Su 28:06
35) Alyson Waddle-Su 28:12
36) Maribel Sanchez-Su 28:15
39) Andrea Benitez-Su 29:14
40) Julie Wedam-Su 29:53
42) Celeste Salinas-Su 30:24
46) Amanda Graham-Su 33:26
47) Hali Soto-Su 34:56
48) Sara Sanchez-Su 34:56
49) Maricela Madrigal-Su 34:59
50) Alexa Rios-Su 35:23
51) Ashley Cruz-Garza-Su 36:10