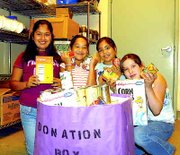 MABTON - Victims of Hurricane Katrina will be receiving help from a group of Mabton Elementary school fifth-graders.
Danysha Salinas, Vanessa Sanchez, Joana Nunez and Jessica Leon have kicked off a food drive at Artz-Fox Elementary School.
The idea was born when Salinas saw people donating things around town. She had seen the destruction caused by Hurricane Katrina the night before and thought she would like to help.
"I decided I wanted to donate something but I wanted it to go to the Hurricane Katrina victims," she said.
Salinas went to school the next day and discussed this with her friend Sanchez. While discussing ideas to help out, Nunez overheard them talking and joined in the conversation. Salinas and Sanchez then asked Nunez to help out.
"I really felt bad for all of the people and I wanted to be one of those people to help but I couldn't do it by myself," Nunez said. "When I was asked, it was my chance to help."
Deciding they needed one more person, they asked Leon to join the group and then got busy.
"I wanted to do this because I felt bad for the people in the hurricane," Leon said. "If it was me, people would be donating stuff to us so I wanted to help."
After a few ideas were kicked around, selling key chains being one, they decided on organizing a food drive. They wanted food, clothes, toys and hygiene products to send down south. "Anything except for refrigerated items," Salinas said.
The girls made up posters and signs stating their mission and plan. Next, they had to ask permission from their principal.
"They were very well prepared when they came and talked to me," Artz-Fox Principal Dawn Weddle said. "They told me their plan and I was like, go for it."
The idea caught on quickly around school and items have been coming in steadily.
Students from Mrs. Roettger's first grade class have gotten into the spirit of giving, as well. Jonathan Reyna, Rieley McCallum, Brianda Macedo, Ana Ruth Cervantes, Gabi Garza and Miguel Gonzalez have all brought in food, toys, clothes and tooth brushes with toothpaste.
"I brought in my last year's clothes because they didn't fit me," Cervantes said. "It made me happy to bring in the clothes."
Reyna said he brought in a Power Ranger so the kids in Louisiana could play with it.
So far it has only been students and teachers donating to the food box sitting by the office in the school. The kids hope to put up posters around town in local businesses to help spread the word.
Next Wednesday the students will send their first shipment.
Sanchez's parents will be taking the donated goods to a local farm that has agreed to send a truck down to New Orleans once a week. The items will be distributed through a church there.
"It's just so exciting to see students at such a young age care about our country for no other reason except compassion and caring about humanity," Weddle said. "It reflects our school's and community's philosophy. We have a wonderful school, wonderful community and wonderful students," she added.