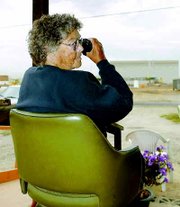 by Frances Potts
Marjory Weisz is keeping a sharp eye on the new school construction across the street from her house on Washout Road.
"I sat in that chair and watched when they covered the pipe. And I watched when Shawn Hyatt of Zillah took down the land. I enjoy watching," said Weisz.
The retired chore service worker has really been in on the ongoing construction of Sierra Vista Middle School from the ground up. From Hyatt's leveling of the 20 acres to prepare the site to completion of the gymnasium last Tuesday, she has been a presence the construction crews have become accustomed to seeing every day.
"They start at 6:30 in the morning and quit at 3:30 in the afternoon," said Weisz, who admits she spends about eight hours a day playing sidewalk supervisor, even though there is no sidewalk at the site.
"But there will be!" she said.
She admits that she takes a break around 3 p.m. to watch Dr. Phil on TV. "But I come out during the commercials," she said with a conspiratorial grin.
"Oh that gym went up fast," she said, enthusiastically. "And look there," she said, pointing, "They're getting ready to pour the cement. Watch them, that's the scaffolding going up."
When asked how she feels about having a busy school almost in her front yard, she smiled slyly, and said, "I don't mind."
Sidewalk supervising gives the 78-year-old something to do during the day, even though, on these cooler autumn mornings, she sometimes isn't at her station by 6:30 a.m. as she was on the truly summery days.
"But I still pretty much start my day with them," she said. "It's interesting to watch. Every day, it's progress. I sit and watch, but they don't know how many times I turn the binoculars on them!"