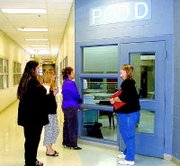 YAKIMA - The young people come from different backgrounds and range in age from eight to 17.
What the 41 youths have in common is that they reside in detention at the Yakima County Juvenile Justice Center. Some are truants while others are held for murder, but all are entitled to adequate care and education.
On Thursday, Sept. 29, representatives from Sunnyside's Promise visited the detention center for a tour and a review of its programs to make sure the facility is fulfilling state requirements.
Sunnyside's Promise is the Yakima County Regional Program Development Unit for a juvenile justice advisory council established by Gov. Christine Gregoire.
"Our responsibility is to find out if there are problems with the juvenile justice system," said Lisa Fairbairn, Director of Sunnyside's Promise. "We report to the governor on a quarterly basis."
Thursday's detention center visit included reviewing a sampling of files on some of those held at the facility.
As part of the visit requirement, Fairbairn also asked detention staff member Jennifer Knight a series of questions ranging from suicide attempts (none) to escape attempts (one).
"The biggest needs we have are funding and enough interested and qualified people to work here," Knight said. She noted that pod officers are with the juveniles all day. "They are an officer, a parent, a mentor, a counselor all in one," she said.
Some enter the juvenile justice system lacking basic life skills such as tying shoes or reading and writing.
As a result, detention centers like the one in Yakima offer classes on basic essentials, as well as mental health evaluations and anger management classes.
Fairbairn echoed the funding issue as Yakima's detention center - a county operated program - is only funded for half of its capacity.
Knight said there are efforts underway to separate those in for relatively minor infractions such as truancy away from murderers and others in for violent crimes.
Though the detention center ideally exists for those "most likely to offend," according to Knight, the reality is that the facility also holds youth who have fallen through the cracks of the foster care system.
"There's a move toward programs like day reporting and home stays which will keep those with more minor infractions away from those here for violent crimes," said Knight.
Fairbairn noted the purpose of the visit is to help the center prepare juveniles for life both in and out of detention.
"We check to make sure they are receiving an education here and not just talking to their friends," Fairbairn noted. "The whole purpose is to make sure the kids aren't staying locked up and then just getting into trouble again."