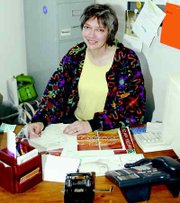 April is Sexual Assault Awareness Month in Washington state and Lower Valley Crisis and Support Services will be conducting a sexual assault awareness project this Thursday, April 6, from 10 a.m. to 2 p.m. at the Centennial Square Gazebo in downtown Sunnyside.
"Our theme will be reach out to speak out," Kristi Hunziker, a therapist for Lower Valley Crisis and Support Services, said.
She said the point of the theme is that one of the most difficult things sexual assault victims have to deal with is the stigma, the shame they feel. "They internalize it," Hunziker said.
She would like to see people speaking about sexual assault.
"It's important for us to talk about sexual assault so those who experience it will have an easier time dealing and recovering from their experience," she said. "It's equally important that we stop hiding from how often it happens so that we can decrease the incidences."
At the gathering there will be a clothesline hung with paper bag puppets made by students from Pioneer Elementary School. The puppets have messages written on them denouncing violence.
There will also be games dealing with safety rules for families. There will be esteem building statements for the parents and a feelings activity to show how important it is for the kids to verbalize their feelings freely.
"There will be cupcakes there too," Hunziker said. "People will earn them by participating in the activities. That's the plan anyway."
She said one out of three girls are sexually assaulted by the age of 21 and one out of six boys are.
Hunziker added there will be resources and materials people can take home. She added she would like to see between 75 and 150 people show up for the project.