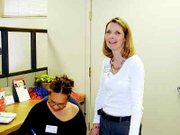 GRANDVIEW - The position may be new for Debbie Southern, but the place is definitely familiar.
Southern, 45, is the new branch manager at Bank of America in Grandview. It's a place she's very familiar with. Southern, who's a Yakima native, worked in the office from 2001 to 2004 as the branch's assistant manager.
Between 2004 and about a month ago when she began her new job as the Grandview branch manager, Southern served as the branch manager in Toppenish.
"It feels really good," Southern said of her new, but familiar position. "It's kind of like coming home."
Southern is no stranger to banking in the Lower Valley. She began her career in banking in Sunnyside in 1980 at Seafirst Bank, the predecessor to Bank of America.
Southern worked in Sunnyside until 1999, having worked her way up from teller to the branch's assistant manager.
She then moved to Yakima to work as a private bank associate, dealing with larger amounts of money and high-end clientele.
But after just a few years, Bank of America determined the demographics of Yakima couldn't support a private banking service, she said, and so she moved back to assistant manager, this time in Grandview.
Soon after, she said she was recruited to help run things in Toppenish. And eventually became manager in Grandview when the position became available just recently.
So what does Southern do as branch manager?
"I oversee all the operations of the banking center," Southern said.
She said one of her favorite parts of the job is working with people in the community.
"I knew a lot (of people) before I left," she said.
Despite all her experience, Southern said she doesn't have a college degree, but that's not something that hinders her abilities.
In fact, the thing that she believes hinders her banking abilities is something one might expect in this area-language.
"Probably the thing that hinders me the most is that I don't speak Spanish," Southern said.
But she looks at her job as a constant learning experience.
"I still have more things to learn," Southern said.