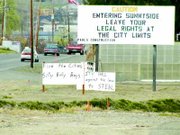 Ninety-nine years is a long time and, if Tom Paul's lawyer gets his way, the city of Sunnyside will pay 99 years worth of damages.
That's the latest twist in a saga between Paul, a Prosser contractor, and the city of Sunnyside.
Paul, his attorney J.J. Sandlin and the city were in court last week as Paul brought a motion to re-open a previous lawsuit against the city regarding a property rights battle going back over the past year-and-a-half.
Paul contends county documents show the city has right-of-way of 15 feet from the center of the road. Sunnyside officials claim it is 30 feet, and point to a 1978 survey commissioned by Paul.
In the midst of the battle has been a billboard, which city officials contend Paul built on the city's right-of-way.
That suit was settled out of court when Paul and the city reached a settlement regarding the placement of his billboard along South First Street.
Paul and Sandlin contend the settlement was broken when a divided city council voted last November to revoke a conditional use permit allowing the sign.
In January of this year, city officials pulled down signs and fence posts from what they said was city right-of-way.
So, Paul and Sandlin responded in February with a motion to re-open last year's original suit against the city. It was scheduled to be heard by a Superior Court judge last Friday.
The idea, Sandlin said at the time, was for a fast track case.
That all changed last Tuesday, when Sandlin and Paul dismissed the effort to re-open the original claim.
Sunnyside City Attorney Mark Kunkler confirmed that he received a call last Tuesday evening from Sandlin regarding the dismissal. "There's really nothing pending on Mr. Paul's side at this time," he said.
Sandlin's change in plans stemmed from a chess match of sorts when the city petitioned for dismissal of Paul's move to re-open the case.
Sandlin countered with an appeal to the judge for both motions to be combined in one hearing.
Paul ultimately decided to drop the motion to re-open the suit, Sandlin said, because only written testimony would have been received.
"Our experience with the city is that you can't use written statements," Sandlin claimed. "They're all inconsistent, we need live testimony. Rather than fights on motion practice, you need a full blown action on this."
Paul and Sandlin said this week they will file a quiet title claim, in which they hope a judge will decide the boundary dispute based on live testimony.
They don't plan to stop there.
Paul said a trespass charge will be filed this week to keep the city off what he says is his land.
Sandlin confirmed that a claim for damages will also be filed this week, seeking at least $1 million in damages through a jury trial.
"Paul's working up the numbers," Sandlin said of the total amount of damage claim to be filed.
Noting that leasing the billboard for advertising could bring between $900 and $1,000 per month in income, Sandlin said by law the potential for Paul to be adversely impacted is up to 99 years.
As a result, Paul's claim for damages, when filed, will top at least $1.16 million, and that's just for the alleged lost income from the billboard.
Sunnyside is contracting with the Seattle law firm Preston, Gates and Ellis to help in the legal battle with Paul. Kunkler said the city just received its first bill from Preston, Gates and Ellis, which he said was in the neighborhood of $4,000. That does not include work the firm may have done for the city last week.
If Paul takes the city to court again, Kunkler said Sunnyside would likely again retain Preston, Gates and Ellis. "At this point, I would assume so," he said. "It depends on what happens next."
One thing that will happen next, according to Kunkler, is that the city will take down a billboard Paul has on his property.
It cautions motorists that they are entering Sunnyside and advises them to "leave your legal rights at the city limits." The reverse of the sign accuses Sunnyside City Manager Bob Stockwell of spending "millions to end free speech."
"We are moving ahead to enforce our sign code," Kunkler explained, noting the ordinance has limits on the total square footage of signs permitted at a site. "We are working on what the next steps are, we're taking a look at what amount of signage would be appropriate on the site."