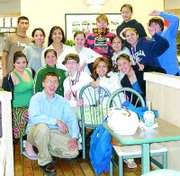 BREMERTON - Sunnyside High School earned top honors during the Washington State Science and Engineering Fair held this past weekend at Olympic College in Bremerton.
"The kids did so well, we won the state trophy for the best high school," said Sunnyside High School science teacher Joyce Stark.
The Sunnyside science program's tradition of sending at least one student to internationals continued last weekend when Jonathan Homrighausen received the bronze award for best overall presentation. Only twice in Stark's 26 years at Sunnyside has the school missed an international competition.
Homrighausen's presentation centered on softening goatshead thorns so they break before puncturing a bike tire or sticking to the soles of shoes.
Mayra Serna will also advance to the international event, to be held in Indianapolis, Ind., as an observer based on her first-place regional award. Her presentation on grapes earned second-place honors at the state competition.
Homrighausen's trip to Indianapolis will be funded through the science fair competition.
Serna will travel to internationals as an observer thanks to assistance from Yao Ying Yang, a doctor living in Kansas who, as a Prosser high school student in the early 1990's, received help on a science project from Stark.
"This will be so exciting for her," Stark said of Serna. "She's only a sophomore, and she will bring back so many ideas from the international fair."
Sunnyside eighth grader Kristen Wedam was named the science student of the year at the State competition. Her presentation on microbiology earned best of show honors.
Other Sunnyside results from the State science fair included:
First place honors for Cindy Gudino and Homrighausen.
Second place honors went to Alyssa Correa, and Serna.
Third place awards were presented to Ashleigh Emery, Oscar Zamorano, Elvira Chiprez and Riley Moore.
Receiving Honorable Mention were Catalina Alvarez, Marcus Mendez, Naomy Velasco, Ashley Talbert, Brenda Barrios and Nancy Lopez.
"It's been a while since we've won the high school trophy," said Stark. "This is exciting to win it again."