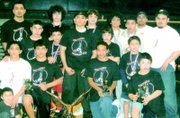 Victory Wrestling Club, a freestyle club available to kids between Yakima and Prosser, is asking the public for help.
"We need donations and sponsors," said Sandra Martinez, a parent of four of the wrestlers in the club and a volunteer.
The club has 22 members aged 9-18. Most of the kids are from Sunnyside but Zillah, Wapato and Granger are also represented.
This year the Victory Wrestling Club will be representing the Lower Valley at tournaments in Yakima, Prosser, Moses Lake, Spokane, Seattle, Oak Harbor and Chehalis. They will also be traveling to events in Reno and Las Vegas.
The group traveled to Bend, Ore. two weeks ago to compete in the Western Regional Collegiate Championships. Five states sent wrestlers to the event.
The club, coached by Rene Torres, brought home five first place trophies, five second place medals and three third place medals.
Steve Sanchez won the 135 lb. division for the 17-18 year olds. He was also presented the Outstanding Wrestler Award for his performance. Joseph Huizar won the 125 lb. division for the 17-19 year olds. J.T. Gonzalez took the 125 lb. title for the 15-16 year olds.
Trevor Gaskin-Herrera was the champion at 112 lb. in the 15-16 year old division and Joshua Romero won the 105 lb. title in the 13-14 year old division.
Issac Romero took second place in the 105 lbs. class for the 15-16 year old division. He lost his first match of the tournament and then won nine straight but missed first place by one criteria point.
This past weekend the team traveled to Reno to compete in the Reno World Championships. There were 2,684 wrestlers and more than 8,000 fans. Three Victory Wrestling Club members made it to the fourth day of the championships.
Steve Sanchez placed second in the 17-18 year old division. Issac Romero placed fifth in the 15-16 year old division.
With the community's support, Victory Wrestling Club is hoping to attend the Men's National Championships in Las Vegas, April 12-15. There will be a tournament for high school boys to compete in and show their talents to all college coaches in attendance. According to Torres, this is the second toughest tournament at this age level in the country.
Victory Wrestling Club is asking the community to support these boys and help send them to Las Vegas. To donate contact club treasurer Vianca Herrera at 509-307-3485.
"These boys are a real team trying to do some good in the community," Martinez said. "Sunnyside is on the map because of our wrestlers. This would benefit the whole town."