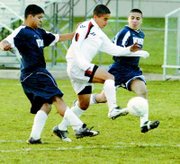 The Sunnyside High School soccer team hosted the Wapato Wolves last night, beating them for the second time this season, 6-0.
"Our team seemed confident," Grizzly Coach Juan Pineda said.
Needing a win to boost its league record, Sunnyside's Alex Aguilar made the first shot of his hat trick in the ninth minute to give the Grizzlies a 1-0 lead. He was assisted by Daniel Valencia. Aguilar made his second shot in the 19th minute, this time assisted by Daniel Ramos.
It was Ramos's turn in the 21st minute as he took a pass from Miguel Galvan and put it into the net. The Grizzlies took a 3-0 lead into halftime.
Fourteen minutes into the second half, Brian Galvan was taken down hard by Wapato defenders inside the 18-yard box, resulting in a penalty kick. Luis Perez did the honors, making it 4-0, Grizzlies.
Alex Aguilar completed his hat trick in the 32nd minute. Assisted by Valencia, Aguilar easily scored his third goal.
"He needed this game," Pineda said of Aguilar. "He's our main forward but he hasn't been scoring. He was doing everything right except for finishing the shot. To come out and get a hat trick, it was good for his confidence. You start making one and you don't stop."
Perez finished up the scoring for the Grizzlies when he converted a pass by Ramos in the 38th minute to make it 6-0.
Sunnyside now has a week off before its next game. "We'll be working on our conditioning this week," Pineda said. "We need to get ready for Selah. They always give us a good match. They are one of the most consistent teams as far as speed and aggressiveness."
Pineda added his team will practice hard this week because there are no games. "We'll take advantage of it and I'll push them hard."
Pineda expects his team to win their next two games. "In the second half of the season we're obligated to beat Hanford and West Valley if we want to be on top," he added.
The Grizzlies (2-3, 5-3) will host Selah next Tuesday, April 11, at 6 p.m.