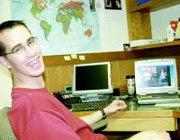 How can a Sunnyside chiropractor on a business trip to Los Angeles end up eating grubs and pig snouts as a contestant on Fear Factor?
Dr. Tim Thompson is noted for ambushing competitors with paint balls in organized tournaments and even for scaling ice-shrouded mountains, but those sports are a far cry from downing crickets, grubs, silk worms, pig snouts and eyeballs mixed up in curdled milk.
And that's what Fear Factor served up to Thompson and fellow contestants in a live performance in front of 3,000 people to see if he was made of the stuff needed to earn a spot on the realty TV show that has set a whole new standard for family television.
"I was in L.A. for a national paintball tournament and a seminar for work and my best friend, who lives in Hollywood, heard Fear Factor was holding this competition, so I said 'why not?'," said Thompson.
The live competition was a screening process from which competitors may be chosen for future taped shows.
May is the key word.
With his mountain and ice climbing experience, Thompson said he thought he stood a pretty good chance of making the cut.
And he was right. Of the 30 people who tried out for a spot on the show, Thompson and two of his friends were selected after being interviewed.
"I think they wanted to see what our personalities were like, if we'd be shy or what," Thompson speculated.
"They narrowed it down to five-four guys and a girl. I think she had about 300 people there just for her, and the audience was rooting for her because she was the only woman," said Thompson.
He said he found hanging by his hands on a bar over the heads of the audience wasn't too bad, because he could fall back on his rock-climbing experience.
"The girl was the first to drop. My friend and I were the last two, and, when he dropped, I dropped," said Thompson.
Thompson and his friend also made it through a test that involved drinking a "smoothie" of disgusting stuff.
As a medical professional, how did Thompson justify putting into his system creepy crawlies and stuff you wouldn't feed to your dog?
"I figured they probably wouldn't give me anything that would hurt me, and there's a lot of protein in bugs and grubs. I don't really like bugs and tried not to look at it," Thompson said.
"And your adrenaline's pumping, so you just do it and deal with the consequences afterwards. And there were consequences!"
An upchuck bucket saw a lot of use, he noted.
The last event pitted Thompson against his best friend in a contest in which they had to rotate a wheel with their hands to energize lights. The one who spun the wheel fast enough to illuminate the highest lights won. It seemed like child's play, Thompson said, until they learned they would receive electrical shocks severe enough to send their hands flying off the wheel.
"My hands are still numb from it," Thompson said a week later.
But he persevered. Won the contest and $500 worth of coupons for services and attractions in the L.A. area. Coupons, incidentally, he never used.
"It was just for the fun of it," he said.
And, yes, he would go back to take part in a taped, televised Fear Factor episode, if called upon.
Becky Hilderbrand, a receptionist in Thompson's chiropractic office, had a strong opinion when asked to comment on her boss's latest feat.
"We hate the show and we just can't imagine anybody would want to go on it," she said.
"But he's kind of a dare devil," said Linda Bowman, billing clerk at the office.
The third office employee kept a discreet silence.
"My wife just laughed and said 'oh, this is another thing Tim likes to do'," said Thompson.
"Actually, I've slowed down a little bit since I started a family," said the father of two. "I saw that happen to my friends and never thought it would happen to me, but it's surprising how having a family does slow you down. Now, I only do safe things."