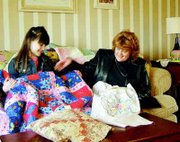 A new quilting club is attempting to piece together a place for itself in Sunnyside.
The first organizational meeting in March left a lot to be desired as far as the number that turned out, but Sherry Northrup is not giving up on the idea of seeing a group of quilters gathered together.
"It would have been fun to quilt in the pre-Civil War days, attending a quilting bee and all quilting together," said Northrup, the primary organizer.
That kind of camaraderie and socialization is something Northrup hopes will happen on April 13 at 1 p.m. at the meeting room in Food Pavilion.
"The new quilting club has no name yet, but meetings have been set for once a month on the second Thursday," said Northrup. "If we get enough quilters, we may have an evening meeting for the daytime workers and an afternoon one for nighttime workers."
She said she has contacted the Association of Pacific Northwest Quilters (APNQ), which has offered to help the new club get started.
"APNQ will send us information on quilt shows and retreats, which we could attend as a group, if we wanted to," said Northrup.
She emphasized that the club will be informal, without officers or bylaws.
At the first meeting it was decided the meetings would be hosted by a different quilter each month, on the second Thursday, at Food Pavilion's meeting room, with the hostess providing a snack and choosing the program.
"This group will be run by the individuals working together, not by one person," she emphasized.
"It will be a fun club, just a group of quilters of all ages meeting to exchange ideas and give each other help, because we need the real young ones for enthusiasm and the older ones for their knowledge and experience," said Northrup.
"The main thing for me," she added, "would be the camaraderie of other quilters and to learn from them."
Northrup said she is still in the learning stage, not yet having tackled a difficult quilting pattern.
"I don't know very much about quilting," she admitted, "but I love it. I just know what colors I like to put together and don't totally follow patterns."
She began instilling the love of quilting in her granddaughter, Kelsi Sandoval, when she was just three. At the age of 6, Kelsi, now 8, made her first quilt, under the direction of women at the Quilters Garden in Prosser. Grandma and Kelsi embellished that quilt with buttons, turning it into a fun project.
"I've quilted a pattern called Railroad Fence done in pinks, white and greens and hand-quilted in flowers. I got that pattern from a book by Alex Anderson, who has a quilt show at 5:30 a.m. each morning on HG-TV. I watch it when I can and dream of meeting her one day," said Northrup.
"Anyone who quilts is welcome to attend our Thursday, April 13, meeting at Food Pavilion. I encourage the young and the old, the new and the experienced and in-betweens to join. We need all of you," she concluded.