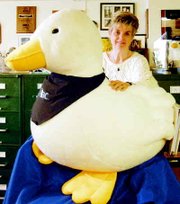 Where would you be if you were a four-foot, stuffed AFLAC duck?
Where you should be is in an AFLAC agent's possession, because only agents can purchase the gimmicky replicas of the AFLAC television star that helps sell insurance.
The specific AFLAC duck that's gone missing belongs to Gini Staggers of Sunnyside, who took it to the Sunnyside Community Hospital with her while she was offering services to staff there.
Staggers had posted it at the cafeteria door for five days with a sign directing interested people to her location in the hospital.
"He was there, doing duty, directing people to me. Then last Tuesday (March 28), he walked out on human legs," said Staggers.
Staggers' duck was shipped to her from the AFLAC headquarters in Columbus, Georgia.
"I plunked down $100 for each one, and I have...had...two," she said. "They're probably worth about $250, but, because we're agents, we can order them for $100."
Staggers said she'd like to see her duck fly back home, via any route it cares to take, no questions asked.