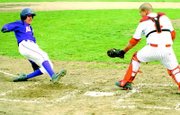 MABTON - Any chance for a comeback by Granger, after falling behind 5-0, went by the wayside in the bottom of the fourth inning yesterday. That's when the Mabton High School baseball team exploded for eight runs to forge a 13-0 lead.
The Vikings proceeded to blank the Spartans in the top of the fifth, which brought an end to the non-league game via the 10-run mercy rule.
Tuesday's victory, the Vikings' second win in their last three outings, upped Mabton's overall record on the season to 2-4.
"We are really starting to play well as a team," said first year Mabton Coach Andy Dyer.
"We are swinging the bats well. We are tough to beat if our fielding stays solid," he said.
Also solid yesterday was the performance of Mabton's pitching ace, senior Tommy Bonewell.
"Tommy pitched a fantastic game and picked up another win," Dyer said.
Bonewell also helped the Vikings' cause by getting aboard in the bottom of the second with a single. He scored on a home run crushed by catcher Angelo Salinas. Bonewell singled again in the third, and coupled with single base hits by Lupe Campos and Zach Perales the Vikings ended up scoring three runs that frame.
Mabton's big inning came in the bottom of the fourth, when the Vikes pushed eight runs across the plate. Shortstop Adrian Magana singled twice in the inning, and Perales had two hits as well, one of them a double. Also coming up with fourth inning singles were third baseman Ricky Sanchez and outfielder Eli Perez.
The Mabton baseball team has the rest of Spring Break off. The Vikings' next scheduled game isn't until Tuesday, April 11, at Tri-City Prep.