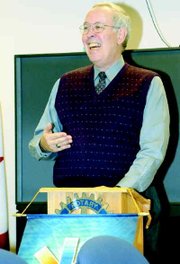 Last year new legislation was enacted requiring people to seek advice from a credit counseling service before being able to file for bankruptcy.
Before the new legislation took effect, there was a spike in bankruptcies that resulted in over two million bankruptcies last year.
"Whether you are on food stamps and don't have enough money to buy food or if you make $150,000 a year and are $200,000 in debt, the pain is the same," Geoff Baker, Director of Consumer Credit Counseling Services of Yakima Valley, told members of the Sunnyside Daybreak Rotary Club Wednesday morning.
Baker said the non-profit organization helps people get out of debt.
"Most people thing they're in a lot of trouble but if they come talk to us, they find out they're not in as much trouble as they thought," he said.
The non-profit organization might just be the best kept secret in the Yakima Valley. Opened in 1971, CCCS has been helping people for nearly 35 years.
"If we talk with people and tell them where they are and where they should be, we can help them avoid bankruptcy," he said.
Baker and his team of counselors help people by offering them debt counseling and debt repayment plans. The debt counseling is free but the repayment plans will cost $25 to set up and then $15 a month to maintain.
The counselors will work with creditors to lower interest rates and allow the consumer to pay off their loans.
Baker warned of payday loans. He said that in some cases one payday loan might be OK but any more than that and it's a recipe for disaster.
He said payday loan companies have found their niche and they are not going away. Typically the payday loan company will charge up to 340 percent a year on a loan, he said.
Baker said if you have two payday loans you will spiral into debt, which causes most people to take out more loans to try to catch up but they usually don't. "It's impossible to work out of four or five payday loans," he said.
Baker also warned about debt relief companies you see on TV. He mentioned people have never heard of CCCS of Yakima because they are a true non-profit organization that can't afford advertising.
He said these groups pose as non-profit outfits but really are not. Baker said you should ask certain questions when calling a debt relief agency, such as if they are accredited and by whom; if the counselors are accredited; if client monies are placed in an independent trust account; and a full disclosure of all fees.
CCCS of Yakima offers a free class every Wednesday afternoon in Yakima. Baker said they can't always help people avoid bankruptcy. If a person needs help with their credit, they can call 1-800-273-6897 or visit them online at www.cccsyakima.org.
"Too many people are taking away their future by paying for today's pleasures," he added.