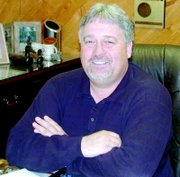 Sunnyside's Sixth Street downtown corridor is among the concerns that prompted State Farm Agent Ben Sartin to become the newest member of the city's planning commission.
Sartin, 48, was appointed to the position last week by Mayor Ed Prilucik.
A resident of the Sunnyside area since the seventh grade, Sartin said his interest in getting involved in the community came from his transition from truck driver for the cold storage facility his family owns to insurance agent.
Sartin said he joined State Farm five years ago after his father, Pete, expressed an interest in retiring from the firm.
"Now we've traded places, he runs the cold storage and I'm the insurance agent," Sartin said with a smile.
The growth along Yakima Valley Highway also brings a smile to Sartin's face, especially the possibility of a variety of businesses moving in, such as Quiznos.
He also suggested an idea to help fill in some of the vacant storefronts along Sixth Street.
"Instead of government agencies building new buildings, why don't they use the ones we already have downtown?"
Sartin said projects such as the roundabout planned near South First Street also helped spark his interest in having a voice in future city developments. Recent difficulties, such as the city's fight with Tom Paul, also weigh on Sartin's mind.
"These are the kinds of things that made me think I should get involved and give my two cents worth, whether it's worth two cents or not," he laughed.
"I want to help, to be involved in the direction our growth is going," Sartin said.
Though he has his opinions, Sartin said he plans to be a learner when he first takes his planning commission seat during next Wednesday's meeting.
"I still feel like I've got a lot to learn," he said. "I need to study things a little bit to the point where I fully understand my role and the role of others on the planning commission."
Sartin said he doesn't necessarily bring a lot of expertise to the planning commission, but he pledged he will bring an open mind.
"I have an open mind and that's my best attribute," he said. "That will help me more than anything on the planning commission."