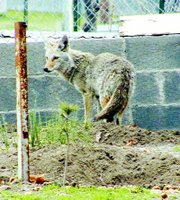 A guest visited Guadalupe Jimenez's family yesterday morning, a coyote grazing in the small plot of land he gardens behind his home at 311 E. Grant Avenue in Sunnyside.
"There wasn't anything there, just some onions," Jimenez said of the limited offerings the coyote would have found.
Though he called animal control officials with the Humane Society, Jimenez said he wasn't afraid of the coyote, which hunkered down in the fenced garden area.
"I like him, I wish I could keep him as a pet," Jimenez said with a nod the coyote's way. "It reminds me of Texas, we used to play with them there."
The affection must be mutual, as Jimenez said yesterday's coyote was the second to visit him in the last three months.
A coyote in town was a first for animal control officer Brandon Crapser with the Humane Society of Central Washington.
"You might find them on the outskirts of town, but I've never seen one so far in town, it's almost downtown," he said.
In fact, the coyote had holed up just across from Sunnyside's Central Park.
The park's span of green grass and trees may have been tempting for the coyote. Crapser figured the animal likely originated from the Satus Pass area.
"It's like that bear that was around here about six months ago," he said. "The animals come down from Satus Pass through the orchards into town."
Crapser was later joined by state Fish and Wildlife officials, who decided to try to snare the animal. The idea was to tranquilize and relocate the animal in more suitable habitat than the cluster of houses and barking dogs that seemed to frighten it.
"We went back there to try and capture it with a pole," Crapser said. "But it got scared and jumped the fence and ran off toward the canal."
He said the wily coyote will likely follow the canal out of town, and should pose no harm to people or animals.
Crapser said the game official responding to the call actually preferred the coyote running away. "He said he would rather it get scared off than hurt someone trying to catch it."
If someone does spot the wily coyote, they can call the Sunnyside Police. If they are frightened by the coyote, Crapser suggested that residents could call the Department of Fish and Wildlife at 509-575-2740.
Crapser said he did place a live animal trap on Jimenez's property just in case the coyote decides to make another visit.
But he doubts ol' wily will make a return appearance.
"I think this was just a random act of nature," he concluded.