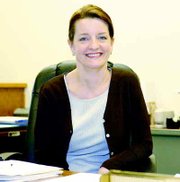 Saying she has a passion for economic and tourism development in the Valley, Deborah Estrada has taken over as the new city clerk for Sunnyside.
Originally from Seattle, Estrada and her husband moved to Zillah in 1990. After working in the fruit industry for a while, she eventually became the executive assistant/deputy clerk for the city manager in Toppenish. When the city clerk position opened in Sunnyside, Estrada applied and was hired. She resigned from her post in Toppenish and started work in Sunnyside March 21.
Estrada is the official records keeper for the city of Sunnyside. Her other duties include assisting the city manager and the city attorney, and providing administrative support to the city manager, city attorney and the city council.
Why Sunnyside over Toppenish?
"Working for a larger city provides more opportunities for professional growth," she explained. "There are more issues to deal with. There are things Sunnyside is working on that I'm interested in."
Estrada said she's enthusiastic about the Sunnyside Economical Development Association.
"It's a good example of what can happen when diverse agencies come together for the mutual benefit of everyone."
She's been extremely busy so far. A combination of being a new city employee, learning the process and being assigned new projects on behalf of the city have contributed to that. Still, she likes her new surroundings.
"I'm enjoying it," she said. "The staff has welcomed me. They're all very capable. I enjoy working for Mr. Stockwell and Mr. Kunkler."
She added her predecessor, Judie Essary, has been very helpful in the transition. "She's been very helpful in bringing me up to speed and sharing the knowledge of the city," she added.
Estrada said when moving to a new city, it's not just learning the names of the people in the office. "It's learning about the people, the businesses, the issues and the political climate."
The differences between Toppenish and Sunnyside aren't that much, she said.
"My role here is very similar to my role in Toppenish, just on a larger scale," she said. "The demographics are very similar."
In Estrada's free time, she continues to work on her Bachelor's degree in business administration.
.