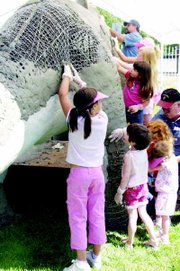 GRANGER - The events planned at Hisey Park in Granger for this year's spring break have been canceled due to equipment problems but there will still be lots to do this spring and summer.
Saturday, April 15, starting at 10 p.m., the Easter Bash will be held at the park. Easter eggs will be handed out to all the kids along with a raffle ticket. There will be several raffles held throughout the day with the grand prize being a bicycle with a helmet. A variety of other assorted prizes will be given out too. The event is free to all.
May 18 is the second annual community appreciation day. "It's the city's way of saying thank you to its citizens," Nancy Mortensen, an employee of Granger Public Works, said. "We'll have a get together with hot dogs, chips and a pop for $1.
This will be followed by something new. A spring community yard sale is being planned for May 19-21. The sale will be open to anybody. Those wishing to sell items can rent a 20 foot by 20 foot area of grass for $5 a day.
On June 3 starting at 9 a.m., the Dino-in-day event will be held. "This is where people get to participate in the building of Granger's newest dinosaur," Mortensen said. "We don't know what dinosaur will be built this year. Last year a Corythosaurus was built."
Participants will get to actually help put the concrete in place to form the dinosaur.
Hisey Park will again host this year's Granger DinoMite Fourth of July celebration.
There will be food and several activities are still being planned. One such activity is the $500 hole-in-one contest. This will be held from 9 a.m. to 6 p.m. There will also be live entertainment offered. Anyone interested in performing can call the Granger Public Works Department.
The hydroplane races will be visiting Hisey Park this summer. Remote-controlled hydroplanes that is.
Aug. 12-13 the unlimited hydroplane boats will be racing. These remote-controlled boats can reach speeds of 70 mph. Two weeks later on Aug. 26, the second annual Granger Cup Invitational will be held. These boats are about three times smaller than the unlimited hydroplanes but just as much fun.
On Sunday, Aug. 13, the same day as the unlimited hydroplanes races, the Granger Chamber of Commerce has tentatively scheduled its third annual Menudo cook-off. The event is planned to start at 10 a.m. and will feature live entertainment that has yet to be secured. Anyone can enter their Menudo in the contest.
Everyday fun can also be had at Hisey Park. Paddle boats can be rented for $5 for 30 minutes. The boats can seat four people. Surreys can also be rented. The smaller bikes go for $10 for 30 minutes and the larger ones are $15 for 30 minutes.
The pond in the park is stocked with fish and is open to anyone with a fishing license.
There is a stage at the park which is open to anyone who wants to use it. Bands are especially welcomed. They will have to bring their own sound equipment as the park has none.
"Our long-term goal is to have a sound system at the park," Mortensen said.
Mortensen also mentioned a planned walking path connecting the pond with the top of the park.
"The new path will make it easier and more wheelchair friendly," Mortensen said.
For now the project is on hold but it is in the works. "It should be done sometime this year," Mortensen added.
.