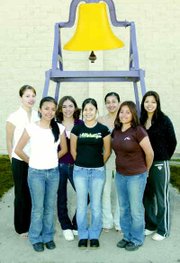 MABTON - Members of the Mabton High School drill team are going to be busy in the coming weeks. The squad has arranged several fundraisers, so team members will be able to attend the Thunderbird Dance Camp in Portland, Ore. the first of July.
Currently, the team is taking orders for Little Caesar's pizzas. Those interested in supporting the team's efforts can order a pizza from any of the team members, or can call drill team coach Connie Beeman (391-5879).
Beeman said her squad will also conduct several car washes, although the dates of those fundraisers have not yet been selected. In addition, the drill team will host a drill camp for younger children during this year's Mabton Community Days festival.
Beeman said the Thunderbird Dance Camp in Portland will not only help her team members improve their performances, but will serve as an experience for the teens to learn about other communities and other cultures.
&nbsp