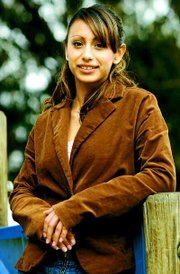 If Rosie Lopez becomes Sunnyside's Miss Cinco de Mayo, she wants to help immigrants better adjust to the American way of life.
"I would like to help immigrants understand the way it is here and how our government works," she said. "There is a misunderstanding between the two sides and I would like to bridge the gap."
She said a lot of immigrants come here without a clue to how things work.
"I would like to help them get a GED, get their kids in school, get a job and start their life," she added. "My goal my be a little high but that's what I'm going to try to do."
The 17-year-old junior at Sunnyside High School is the second youngest of six children in her family.
She wants to become the 2006-07 Miss Cinco de Mayo to be a role model to little kids and the community. "I want to show them making good decisions will make them a better person," she said.
Lopez thinks she should be crowned because she wants to help the Latinos in the community. "I want to help them understand government and the ways it's treating Hispanics," she said. She would do this through education in a youth group setting.
Lopez is involved with cross country at high school. She is also a member of the FAA club, the pep club and Mecha. She hopes to earn her PHD in history at the University of Washington in Seattle. History is close to her heart so it frustrates her when people don't get the meaning of Cinco de Mayo.
"I would like to remind people of what Cinco de Mayo represents," she said. "A lot of people use it as an excuse to party but it's much more than that. It was the end of our war for independence. People need to understand that."
Lopez said she sees correlations between what's happening now in the United States with immigration and Cinco de Mayo.
Lopez describes herself as trustworthy, responsible, respectful and said she tries hard at everything she does.
She would like to see violence and teen drinking stop. "It's getting out of hand," she said.
Her hobbies include being involved with her church youth group, jogging, hanging out with friends and going to "sweet 15" dances.
Although her parents weren't totally on board with her trying out for the competition, she says they have warmed up to the idea. "I think my mom's pretty excited about it now," she added.
Lopez is keeping what she plans on doing for the talent part of the pageant a secret but promises it will be a "blast."
.