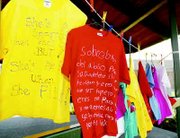 April is Sexual Assault Awareness month in Washington state and a rally was held yesterday at the Centennial Square Gazebo in Sunnyside.
The rally was held to educate people about sexual assault, how often it happens and how people can prevent it. The theme of the rally was 'reach out to speak out.'
At the rally there were t-shirts with hand written messages on them. The shirts were made by survivors of domestic violence and sexual assault.
There were also paper bag puppets hanging from a clothesline. The bags were made by students from Pioneer Elementary School. They too bore messages preaching against sexual assault and domestic violence.
A table in the gazebo was stacked with pamphlets and information on sexual assault and domestic violence. There were cupcakes to be given out to those who participated in the games and information activities.
The only thing missing were the people.
A scattering of folks showed up early in the rally but they soon left.
"We don't ever get a big rally turnout," Jan Wahl, a counselor and prevention coordinator at Lower Valley Crisis and Support Services, said. "Sexual assault is very hard to talk about. People don't want to stop out of fear of being identified as a sexual victim."
It goes back to what Kristi Hunziker, a therapist for Lower Valley Crisis and Support Services, told the Daily Sun News earlier this week.
"The victims internalize their pain," she said. "It's very difficult for them to deal with the stigma, the shame they feel."
Staff and help at Lower Valley Crisis and Support Services is available 24 hours a day. All of the services are free. The phone number there is 837-6689.
"It's not just our job to fight sexual assault and domestic violence," Wahl said. "It's the community's job as well."
The near non-existent turnout didn't dim the spirits of Wahl or Hunziker. It just made them realize how much more work they have ahead of them.
"We are making progress," Wahl said, noting the nation-wide Amber Alert and more coverage on the national news.
Wahl said one of three girls will be sexually assaulted by the time they reach the age of 18 and one out of seven boys will be assaulted.
"The saddest thing is that 85 percent of the children who are assaulted know the abuser," said Hunziker. "They are either friends or family members."
A majority of the people who did stop by the rally were parents with children looking for information on how to prevent sexual assault.
.