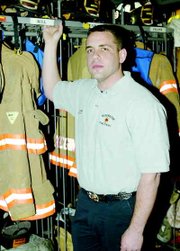 Bill Harris and his wife wanted to live somewhere in Eastern Washington. So when the opportunity for him to join the Sunnyside Fire Department came along, he took it.
"The climate is really awesome," Harris said. He and his wife settled down in Grandview when Harris joined the fire department seven years ago.
This is the first full-time job as a firefighter for Harris. His only other work was as a volunteer in his hometown of Dallas, Ore.
He had volunteered for the department in Dallas because it was interesting and seemed exciting. After being involved for a while, Harris decided he liked it enough to give it a try full-time. He applied to a paramedic program at Chemeketa Community College. "There were more job opportunities if you were a paramedic," he said.
After two years in the program and an internship at Dallas Emergency Medical services, he join the staff here in Sunnyside.
Harris is a member of one of three crews at the Sunnyside Fire Department. His crew works for 24 hours then gets 48 hours off. On their working days the staff comes in at 8 a.m. There is a staff meeting where the day in lined out and the crew is notified of any special projects. "It's basically a roll call," he explained.
After that the crew surveys the equipment and makes sure that all equipment is in place and the air tanks are full. After that it's house cleaning time.
"We basically live here," Harris said. "It's like a second home so we have a list of chores we must do."
The crew must clean and mop their living quarters, the kitchen and around the station. They do something different every day.
They also complete one hour of training every day. Either medical or fire fighting training, it changes from day to day.
Harris and the crew also do company inspections, where they will go into a business in town and make sure everything is up to code. "It's a fire prevention measure," Harris said.
The Sunnyside Fire Department gets about 1,800 calls a year with 70 percent of those calls for medical emergencies and 30 percent for fires.
Fires calls are fairly even throughout the year with structure fires being more prevalent in the winter and brush fires more common in the summer.
Harris likes being a firefighter. "I like it because it's different every day," he said. He also adds he likes it because it's a profession little kids look up to.
The shift schedule is a big draw to being a firefighter, too. "You have a lot of time off," he says.
What's life like in the station for the 24 hours Harris is on duty?
"It's kind of like a family," he explains. "We have tons of fun. There's lots of laughing."
Harris said he spends about as much time with the crew that he does with his own family so they get to know each other pretty well.
The most difficult part of the job for Harris is dealing with hurt children. "That's pretty hard," he said.
Two of his biggest pet peeves are when people don't wear seat belts and drunk drivers. He says seat belts make a huge difference. He says he has seen violent accidents where the people in the vehicle were wearing a seat belt and there was hardly any damage to them.
On the other hand, he's seen very light accidents where the people weren't wearing a seat belt and the damage to the people was severe.
"Most of the people I've seen hurt or dead weren't wearing seat belts," he said. "Many of those accidents were caused by alcohol."
Harris added the most dangerous time of being a firefighter is when dealing with car accidents on the highway, especially in the winter. "People won't be paying attention and they'll be trying to look at the accident," he explained. "It's our most dangerous time."
Other than that it's a great job. The pros far outweigh the cons.
"There isn't anything else I'd rather be doing," he said.
.