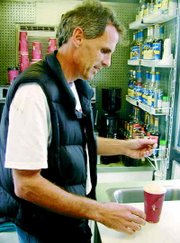 "We're small but we offer a lot!" enthused Jerry Jongsma, owner of Jitterz Espresso in the former Photo Haus booth at 700 Yakima Valley Highway, near Burger Ranch.
The little building is, well, little-it barely holds two people-but Jongsma has stockpiled it with goodies, a blender and the all-important espresso machine.
Jongsma, who owns and operates pay phones in the area, said he thought the small outpost would be a good spot for a drive-through espresso stand.
With a rental agreement in hand from Burger Ranch owner Dean Stokes, Jongsma opened Jitterz on Feb. 14.
"The business is building every day," he said as he poured a sugar-free vanilla latte for a customer. "We're pretty satisfied with how things are going."
The "we" he refers to is his wife, Kristi, and their son, Jared, who take turns running the espresso stand.
Besides espresso drinks, Jitterz offers Italian sodas, Big Train smoothies, fresh fruit smoothies, Jet Tea smoothies and chai teas.
In addition, the little business that could offers cookies, muffins and other sweet treats.
Jitterz has the standard latte flavorings, but also offers sugar-free varieties.
There are also beverages with the youngsters in mind. Known as Kids Kreemz, the smoothie-type beverage flavorings include bubble gum and cotton candy.
"I treat people the way I want to be treated," Jongsma said of his customer service philosophy. "I try to make each drink as if I were making it for myself."
Jongsma's energy and excitement for the new venture can be contagious.
"Get Jitterized!" he laughed as he loaded up yet another customer with custom-made refreshment for the road.