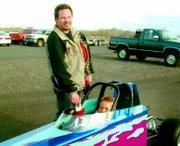 PARKER - They call him Fast Layne Linder and he's undefeated as a drag racer in the O'Reilly Junior Drag Racing League sponsored by the National Hot Rod Association (NHRA).
Layne Linder won his inaugural race April 2 at Renegade Raceway in Parker, a small town southeast of Yakima. It was the first points race of the season with 11 more to go.
"It was cool," the Outlook eight-year-old said when asked how he felt about his first victory.
Linder is a junior drag racer and competes against other beginners ages 8 to 17.
Linder is borrowing a car from a friend for the time being. His own car is being worked on and isn't quite ready yet. Linder's pit crew had a busy week leading up to the first race.
"He's quite a bit shorter than his friend so we had to move the pedals up," Linder's dad, Wayne Linder, said. "We put in different seat belts and added 20 pounds to slow the car down."
In the class Fast Layne is in, the quickest he's allowed to run the 1/8 mile track is 12.90 seconds.
Each racer is supposed to get three time trial starts, "But I only got two," the junior drag racer said of his first competitive outing. His first run was 14.20 and his second run was a blistering 13.25.
The junior drag racing circuit is different then the drag racing you see on TV. The race is not just about who beats who to the finish line. The racers must predict the time they think they will post in the 1/8 mile race. The drivers write this time on their windshield.
When they take off, they must not go faster then the time they predicted, if they do, they lose. They must beat the racer in the adjoining lane to the finish line and not go over their predicted time.
In Linder's first round he dialed in 13.21.
"Layne had a better reaction time than the other driver and was way ahead," his father said. "He got close to the finish line and realized he couldn't be beat so he slowed down and coasted in." This move gave Linder a time of 13.44 seconds, well under the time of 13.21 he had dialed in. He moved on to the second round.
In the second round, Linder's opponent red-lighted, which means he took off before the green light, and Linder automatically moved onto the final round. His first victory was within his reach.
In the final round, Fast Layne dialed in a 13.25 time. Again he had a better reaction time to the lights than his opponent and jumped out to an early lead. He beat the other car to the finish line with a time of 13.40 seconds and the trophy was his.
Linder has a lot of knowledge of drag racing for being only eight years old. His dad's been racing for 20 years and his grandfather has been racing since Layne's dad was two-years-old.
"He's been around very qualified racers since the day he was born," Wayne Linder said of his son.
Linder's next race at Renegade Raceway will be Saturday, May 6, although he might race in a non-points competition at the Seattle National Open the 29th and 30th of April.