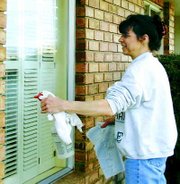 Lifelong Sunnyside resident Anna Smith started her cleaning business at about the time she started a family with husband Scott.
It's been more than 20 years since then, and Smith's Raggedy Ann's House Cleaning has literally been cleaning up in Sunnyside and the Lower Valley area.
"It kind of sounds like my name and my clothes are just about rags when I'm done working," she said with a smile.
Thorough work-Smith often mops floors on her hands and knees-combined with loyal customers have helped make her successful.
She estimates that she and Scott clean about 15 to 20 homes and 12 to 15 businesses. Frequency of cleaning can range from twice a week to once a month, Smith said, depending on her client's request.
Over the years the Smith children have helped with the cleaning. Raggedy Ann's grew to the point 10 years ago that Scott could leave the trucking business to work full time in the cleaning business.
Her clients range from judges to accountants to elderly folks in need of a hand.
Yes, Anna Smith does windows. But don't ask her the secret of success in obtaining a streak-free shine.
"I can't tell you that!" she laughed. "That's my secret formula!"
She and Scott do a whole lot more than windows, though, offering landscaping services, as well as a help with household chores such as painting.
Some of her elderly clients have moved on to retirement homes, but she still helps them with activities such as laundry and running errands.
"I really love elderly people," said Smith, who figures about half of her residential clients are senior citizens. "I really have a weakness for them."
The hardest part of the cleaning business, she notes, is when one of them dies.
"My first customer recently died and it was hard," she said. "After awhile you get attached to people and they become like family."
And, ultimately, it's all about people, for Smith.
"In this kind of work you can see the progress you're making," she said. "I just love the feeling of making a difference in someone's life."