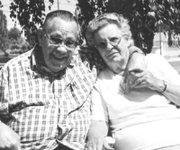 Leo and Joyce Thompson of Sunnyside will celebrate their 50th wedding anniversary on April 15 at the Sunnyside Eagles Lodge.
The evening will begin at 6 p.m. with a renewal of their wedding vows. That golden anniversary moment will be followed by an open house, which will last until 9 p.m.
"A money tree will be available for those well-wishers who choose to help purchase a summer cruise for the couple," said Julie Humpherys, who, with her husband Leo, is hosting the party.
The Thompsons were married on April 14, 1956 in Temple City, Calif.
Leo, who retired from the Tri-City Herald where he was employed as circulation manager, works at Wal-Mart and is a dedicated volunteer at Sunnyside Community Hospital. Joyce is the former Sunnyside agent for the Tri-City Herald.