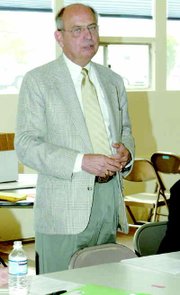 GRANDVIEW - Congressman Doc Hastings visited the Grandview Chamber of Commerce meeting Tuesday and spoke about the United State's need to decrease its reliance on foreign energy.
"Energy is what drives our economy and what we need is a diverse portfolio for this country in energy," Hastings told the chamber of commerce.
He said a comprehensive approach to meeting America's energy needs means increasing domestic production of traditional fuels, continuing tax incentives for renewable energy, encouraging efficiency and conservation and protecting the dams that have long provided the basis of the Northwest economy.
Hastings told the chamber America imports nearly 60 percent of its oil from politically volatile regions of the world. He noted during the gas and oil crisis of the 70's, the United State's imports were at 40 percent. "We have become more dependent on foreign oil," he said.
Hastings also noted that during the summer's two biggest hurricanes, the thousands of oil rigs in the Gulf of Mexico did not rupture. He said this technology proves the U.S. can go into areas such as Alaska and search for energy in a safe way that doesn't harm the environment.
Congressman Hastings also spoke briefly about the war in Iraq. On the two occasions Hastings has visited Iraq, he said he was struck by the confidence of the Iraqi leaders. They feel strongly they can build a government, he said.
"It's been hard for them," he said. "They've been under a dictator for years and now they are told to govern themselves. It will take some time."
Hastings says he and other members of the administration feel that once the government is formed and an elected leader is in place, the rest of the Iraqi government will come together.
Hastings added, "If we don't see this mission to the end, we will be fighting terrorists on our soil."
The Congressman also touched on immigration. "I don't think anyone can fault anyone for trying to make a better life for themselves," he said.
Hastings supports a guest-worker program and was disappointed the Senate didn't pass a comprehensive bill dealing with these issues.
"I'm hoping the Senate can put politics aside and put together a comprehensive bill," the Congressman said.