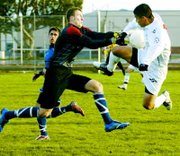 The sun broke through the clouds at game time but the field was a slippery mess as the Sunnyside Grizzlies' boys soccer team defeated Selah 3-2 Tuesday night.
The first goal of the night came in the ninth minute as Alex Aguilar received a pass in the air and was taken down hard inside the 18-yard box. Sunnyside was awarded a penalty kick and Luis Perez converted his fifth penalty kick of the season to give Sunnyside a 1-0 lead.
In the 32nd minute Sunnyside again got on the board.
Aguilar fed a sweet pass to Miguel Galvan down the left side. Galvan took a solid shot that caught the corner of the goal just beyond the keeper's hands.
This made the score 2-0 and made the Selah keeper curse and shout in disgust.
Selah got on the board cut the lead in half in the 32nd minute of the second half. Selah's Zach Mahre was fouled inside the box and he converted a penalty kick.
Selah tied the game six minutes later when Mahre picked up a rebound and blasted the ball inside the net from close range.
After regulation ended, the score was tied at 2 apiece. The first five-minute overtime was scoreless so the teams played one more.
In the second minute of the second overtime, Silvano Ramos elevated himself for an airborne header served by Gerardo Serna. "It was a beautiful header over the keeper's head," Sunnyside Coach Juan Pineda said.
Pineda said with the exception of the last 10 minutes, Sunnyside played a great match.
"We scored early like we had planned to," he said. "At the end we got tired and committed some fouls that almost put Selah ahead."
He said Selah has just beaten West Valley and this gave them a lot of confidence to come to Sunnyside. "I'm happy we got the victory," Pineda said.
The Grizzlies (2-3, 6-3) will have three days of hard practice before they head to Ellensburg for a game this Saturday, April 15.