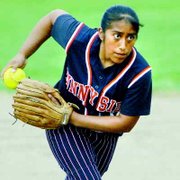 The Sunnyside High School softball team fell to the Connell Eagles Tuesday, by a score of 9-2.
The Grizzlies were out hit by the Eagles 9 to 2 and Sunnyside committed 7 errors while Connell committed zero.
The Eagles scored two runs in the first inning and four in the third. After four and one-half innings, the Grizzlies were down 6-0.
In the bottom of the fifth inning, Cassie Guillen got on base for the Grizzlies. Rachel Flores, who went 1-for-3, brought Guillen home with a base hit to pull Sunnyside within five runs.
The Eagles added three more runs in the top of the sixth inning to widen the lead to 9-1.
In the bottom of the sixth, Sunnyside's Marina Martinez got on base after being hit by a pitch. She then scored later in the inning on a passed ball to make the score 9-2.
"We had too many errors," Sunnyside Coach Ralph Mendoza said. "Connell was very aggressive on the bases. Our throws were off and we were throwing to the wrong spots or behind the players."
Sunnyside committed four errors in the third inning when Connell scored four runs. Only four of Connell's nine runs were earned.
"Connell had outstanding pitchers," Mendoza said. "We need to be more aggressive at the plate against good pitching. We can't wait until we're behind in the count."
This was a non-league game for Sunnyside and Mendoza would rather his team work out their kinks before league play starts.
The Grizzlies (3-3) will travel to play West Valley Saturday, April 15.