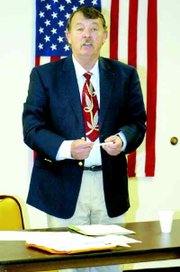 Mike Wallace, a current candidate for the Yakima County Commissioner District 3 seat, spoke at yesterday's Lower Valley Association of Realtors meeting held in the basement of Banner Bank in Sunnyside.
Wallace has been a resident in Yakima Valley for 35 years. He currently owns and operates Hinzerling Vineyard and Winery with his wife Frankie. They also raise cattle on the family farm between Sunnyside and Grandview.
Before he spoke he let the Realtors know he mostly came to the meeting to listen.
"I don't know all the issues in the Valley so I've been going around to different groups to hear different groups and listen to their concerns with Yakima County," he said.
He said he would like to get fiscal responsibility back on firm financial footing in Yakima County. He said he wants an open government to make sure Yakima County taxpayers are heard, especially on important issues.
As a longtime farmer and businessman, Wallace said he supports "the engine that drives our economy" in every way.
He also spoke about tourism in the Lower Valley.
"I think tourism is a very strong economic booster to the area," he said. "It's a fairly clean industry. They come here and buy food in our restaurants, sleep in our hotels, buy gas from our gas stations and spend money on our products."
He said they then go home.
Wallace also heard concerns from the audience. One question Wallace fielded was about the way the Yakima County Planning Commission is making it difficult for non-agriculture businesses to get off the ground on land meant for agricultural use.
"I've heard these concerns before," Wallace said. "Even wineries have had trouble. The planning commission is close to being out of control. If elected it's something I will look into."
He said he'd like to see the planning commission become more user friendly. "I would like to see them evaluate themselves on customer service," he added.
Wallace also heard ideas about bringing in more distribution centers to the area. Wallace agreed, noting Wal Mart and Ace Hardware have brought centers to the Lower Valley.
"I think these types of economic developments are worth looking into," he said.