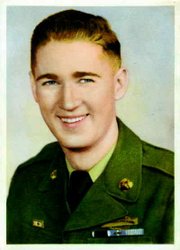 Fifty-five years after enemy fire nearly sheared off his right arm during the Korean War, Limuel "Lim" Forgey finally received his Purple Heart medal during a ceremony today in Sunnyside.
The medal was presented posthumously to Forgey's widow, Laura, by U.S. Senator Maria Cantwell this afternoon at the Sunnyside VFW Hall.
Forgey served in the Army infantry in Korea, Laura said, and fought in the pivotal Battle of Inchon in 1950 before he was shot and severely wounded in the right arm during fighting in March 1951.
"His arm was just hanging by a shred," Laura said of the injury.
Doctors were able to preserve the arm for Forgey, who died in 1999, but it remained weak and still had shrapnel imbedded in it.
A Purple Heart citation was prepared, but the Army lost track of Forgey as he was transferred between hospitals in Japan, Honolulu, San Francisco and finally Madigan Hospital in Tacoma, where he spent a year recovering from the wound.
"He said it just never followed him home," Laura said. Forgey rose to the rank of Corporal by the time he was discharged from the Army in 1953. The bars on his uniform reflected the Purple Heart status, she said, but there was no medal to show for it.
Laura said she and Forgey, who died in 1999, wrote the Army a number of times about the medal, but never received a reply.
Forgey, who worked at Valley Auto Parts from 1955 until his retirement 35 years later, wasn't overly concerned about the Purple Heart, said Laura.
"He felt his buddies who were killed over there were more deserving of receiving the award," she said of the Purple Heart, which is presented to those injured or killed in war combat.
It was the Forgey grandchildren who helped Laura persist in obtaining the Purple Heart.
"They said, 'Grandma, why don't you try to get it?' So I wrote a letter six months ago and within a month Maria Cantwell's office wrote back," said Laura.
The result was today's Purple Heart medal presentation ceremony at the Sunnyside VFW. Those in attendance included local veterans, law enforcement officers, as well as city, county and state officials.
"It's not something you're nominated for, but entitled to," State Rep. Dan Newhouse said of the Purple Heart before introducing Cantwell today. "This isn't about all of us, but the service and sacrifice of this individual and his family."
Calling the Purple Heart presentation a "testimony to the persistence" of the Forgey family, Cantwell stated, "It's only right that Corporal Forgey receive the full honor he deserves."
Cantwell continued, "I was honored to work on Mrs. Forgey's behalf to pursue the medal from my office with the US Army and Personal Records Office. And I was overjoyed when we succeeded, at last. I'm so pleased that we can stand here today and present this long-overdue Purple Heart."
The Purple Heart and the honor and ceremony accompanying it were nearly overwhelming for Laura.
"We just wanted the medal, not a full-blown show," she said with a tearful smile.
A medal presentation by a U.S. Senator isn't something Forgey would have expected either, noted Laura, "All I can think is that my husband wouldn't have wanted for it be such a big deal."
. John Fannin can be contacted at (509) 837-4500, or e-mail jfannin@eaglenewspapers.com
Rod Smith/Daily Sun News
U.S. Senator Maria Cantwell presents Laura Forgey of Sunnyside a posthumous Purple Heart medal in honor of her deceased husband Limuel, who was shot during fighting in the Korean War.
photo courtesy Laura Forgey
Fifty-five years after he was wounded in the Korean War, longtime Sunnyside resident Limuel Forgey, pictured during his Army service, received the Purple Heart medal posthumously today. Forgey, who died in 1999, returned to the Sunnyside area after the war and worked several years for Valley Auto Parts.