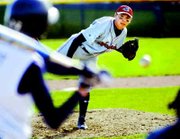 GRANDVIEW - Mixing small ball strategy of steals and sacrifice bunts with a two-run homer by Rigo Rodriguez, Grandview's baseball team rallied for a 4-3 home victory over CWAC South foe Naches.
"I can't remember the last time we beat Naches," said Coach Mike Chester.
In order to beat Naches yesterday Grandview had to pull all it had out of its bag of tricks, mustering its four runs on just four hits.
The visiting Rangers struck first with two runs in the top of the first inning. Grandview starter Tony Chester settled down from there, hurling four and one-third innings of shut-out baseball from that point.
The Greyhounds chipped away, posting a single run in the bottom of the first without a hit. Joel Ledesma coaxed a walk to lead off the inning, then came around to score following a sacrifice bunt, a fielder's choice and a passed ball.
Grandview tied the contest at 2-2 in the fourth when Chester smacked a double then scored after stealing third and scampering home on a wild throw.
That set the stage for the decisive sixth.
Rodriguez was pitching in relief by this time, and Naches made it a 3-2 game with a solo run in the top of the inning.
In the bottom of the sixth, Chester led off with a single and Rodriguez delivered the game winner by turning on a 2-2 pitch and drilling it over the left field fence for a two-run shot.
Rodriguez ran into trouble in the top of the seventh, putting two runners on with nobody out.
"I was just about to pull him, but then he struck out the next batter," said Coach Mike Chester.
With still two on and one out, Rodriguez coaxed the next batter into a double play groundball.
Shortstop Marty Guillen collected the grounder and threw it to Ledesma at second for one out, then Ledesma's throw to first was in the dirt, but was scooped out by Jeremy Stegeman to complete the twin-killing and wrap up the win.
"The kids came off the field like they won the World Series," Chester laughed.
He added that the close win was a morale boost for his team.
"To beat Naches in a close game going into the last half of the season is huge," he said.
At the same time, the Grandview nine still have work to do in league play, starting with a CWAC South contest at Connell this Saturday.
The Greyhounds moved to 4-3 in league play and 5-4 overall. Rodriguez improved his record to 1-1 on the season with the victory in relief.
NA 200 001 0 3-7-3
GV 100 102 x 4-4-1