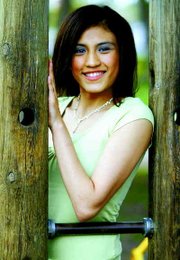 Many years ago when Lucy Avila was a young girl, her sister used to participate in pageants and Avila always thought it would be fun.
She will have her fun soon enough, as she is competing with other Lower Valley teens vying for the title of Miss Cinco de Mayo.
"It's a great opportunity and experience for me," she said. "I think it's every girl's dream to become a princess or a queen. Now, I'm having a great time and making friends with the other girls."
The seventeen-year-old junior at Sunnyside High School thinks she would be a good choice for the Miss Cinco de Mayo title. "I think I have a good personality," she said. "I always have a smile on my face and I'm outspoken enough to speak what's on my mind."
If Avila is crowned Miss Cinco de Mayo, she wants to work to make her and the Hispanic community's voice heard.
"I think everyone should have equal opportunities," she claimed. "I would work with groups like Nuestra Casa to help bridge the gap between the non-English speaking population and the English speaking population."
Avila's favorite subjects in school are history, English and math. "I like history because there are things we don't know and history teaches you it," she said.
Avila works part-time at the Sunny Spot restaurant in Sunnyside. She says she's half dishwasher and half waitress.
She also helps her mom out with her mother's daycare business. "I like it," she said. "I like working with little kids. It's fun."
Another favorite past-time of hers is to hang out at her dad's upholstery shop. "I like watching him do interior and exterior designs," she admitted.
Designing is what she would like to do when she graduates from college.
"I want to become a fashion designer and attend the Art Institute in Bellevue," she gushed. "If I can't be that, I would like to be a detective solving mysteries."
Her hobbies include shopping, eating, reading and spending time on the computer.
She is part of the Link Crew, which helps upcoming freshman make the transition to high school. She spent two years on the Grizzliettes but next year would like to be a cheerleader.
Her talent for the pageant will a mixture of hip-hop with some ballroom dancing. "They haven't seen anything yet," she promised.
The Miss Cinco de Mayo competition will be held Saturday, April 28, at 7 p.m. in the Sunnyside High School auditorium. Tickets are on sale at Raquel's Hair Boutique for $7. Tickets can also be purchased from the individual candidates.