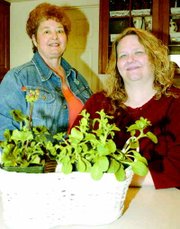 The Soroptimist club in Sunnyside will be selling plants to raise money for Lower Valley Soroptimist scholarships and mammography projects.
People can choose from red, white, pink and salmon geraniums or purple, rose, pink and blue wave petunias.
The plants, from Sunnyside Green House, will be pre-sold. They can be bought by contacting Barb Miller at 837-4093 or Pam Craig at 839-4430. They can also be purchased through other members of the Soroptimist club.
Prices for the flowers are $19 per dozen or $1.60 each.
Some proceeds will go to support the Valley Soroptimist scholarship fund. The club provides two scholarships, one for $1,000 and another for $750. High school girls can apply for the scholarships through their counselors at school.
The Sunnyside Soroptimist club has also partnered with Sunnyside Community Hospital to provide mammograms for women who can't afford them.
The plants can be picked up Saturday, April 29, from 9-11 a.m. at the Banner Bank in Sunnyside.