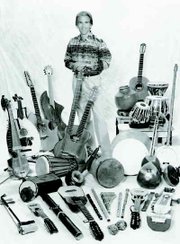 The final performance for the 2005-06 Lower Valley Community Concert series will be held Sunday, April 23, at 3 p.m. in the Sunnyside High School Auditorium.
The artist will be Todd Green, who plays a multitude of string, flute and percussion instruments.
Green performs all original music with a blend of classical and improvised music from around the world.
He has studied with guitar greats such as George Benson and Pat Metheny. His studies have also included ethnic instruments.
Although this concert is the last of this year's series, it is also a bonus concert for new LVCC members. Memberships are available through members of the LVCC or at the door on the day of the concert. New and renewing members will receive a break on their memberships if they renew before April 30.