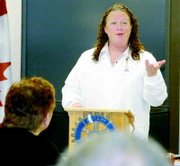 Strong muscles help prevent injuries and protect the body's bone mass. This is what the Sunnyside Daybreak Rotary Club learned Wednesday morning as they listened to Jean Clary, a registered dietitian at Sunnyside Community Hospital.
Clary showed the Rotarians a movie called, "Eat Right! 2005 Food Pyramid."
The movie went over ways eating can improve a person's health. The movie stressed a person should find a balance between food and physical activity.
Thirty-five percent of a person's calories can come from fat but no more than 10 percent should come from saturated fat.
To maintain a 2,000 calorie diet, a person should have six ounces of grains every day. These can come from whole grain cereals, breads, crackers, rice or pasta. One ounce is about one slice of bread or one cup of breakfast cereal.
At least two and a half cups of vegetables should be eaten everyday. The darker green vegetables are better for you. Instead of Iceberg lettuce, eat Romaine instead. The guide suggests eating more orange vegetables like carrots and sweet potatoes.
Two cups of fruits should be consumed each day. When eating fruits and vegetables, color makes a good guide. Eating lots of brightly colored fruits and vegetables will be better for each person.
Three cups of dairy products should also be consumed everyday. For kids aged 2-8, only two cups are needed. The guide recommends going with low-fat or fat-free when choosing milk, yogurt or other milk products. If a person can't consume mild, lactose-free products are available.
The guide also suggest eating five and one-half ounces of meat and beans everyday. Low-fat meats or poultry are best and baking it, broiling it or grilling it is better than frying it.
Most of a person fat sources should come from fish, nuts or vegetable oils. Solid fats like butter, shortening and lard should be limited.
The guide also suggests a person should be active for at least 30 minutes a day. Sixty minutes a day might be needed to prevent weight gain and 90 minutes a day might be needed if a person wants to lose weight.