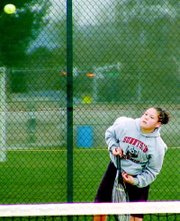 Jesus Alquicira and Mitchell Sanchez rallied for a 2-6, 6-1, 6-4 win to ensure a team victory for the boys and a split yesterday for the Sunnyside tennis teams against visiting Ellensburg.
"They weren't hitting very consistently in the first game," Sunnyside Coach Troy Whittle said of the second doubles duo. "They started stroking the ball really well in the second set. Every time I looked over they were hitting winners."
Danny Plesha started the Grizzly boys on the winning track with a 6-0, 6-0 whitewash over Chris Whidbey.
Tyler Thompson followed with a 6-2, 6-0 straight set win over Ellensburg's Aleks Kimball-Moreno.
The Bulldogs finally got on the winning track as Ryan Scheffelmaier and Jake Hanson defeated Jake Wavrin and Hunter Van deGraaf 6-0, 6-3.
That set the stage for Alquicira and Mitchell, who at one time trailed 2-0 in the decisive third set.
Ellensburg closed out the match with a 6-4, 6-0 doubles win by Mitchell Rhodes and Ryan Spencer over Jacob Kresse and Justin Snyder 6-4, 6-0.
The win improved the Sunnyside boys to 5-1 in league.
In girls competition, Ellensburg prevailed 4-1.
Jerrika Martinez claimed Sunnyside's only win, a 6-1, 6-3 straight set victory over Danica Weiner.
Ellensburg's Nadia Weiner held off Jessica Gudino 6-2, 5-7, 6-4 to tie the team match at 1-1. Gudino, battling injury, led 3-0 in the third set before faltering late.
The visiting Bulldogs then closed out the day with three consecutive doubles victories.
Sunnyside's Helen Shuttleworth and Regina Mendes were defeated 6-2, 6-2 by Nora Jacobs and Tori Sorenson.
Capri Miles and Hannah Paulakis were defeated 6-3, 6-4 by Ellensburg's Amy Anderson and Mercedes Chandler.
The Lady Bulldogs' Jackie McPherson and Carissa Cobain closed out the contest with a 6-1, 6-0 victory over Gayle Hansen and Addy Hernandez.
The Sunnyside girls dropped to 2-4 on the season.
The Grizzly tennis teams hit the court for a make up match with Quincy at home next Thursday.