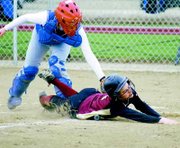 The Sunnyside Christian High School softball team rolled to a sweep over LaSalle Thursday, beating the Lightning 11-6 and 6-3 to go 4-0 in its first four league games.
Emily Hernandez started things in the second inning in the first game when she was hit by a pitch. Hernandez then stole second and third base. Naomi den Hoed got a base hit to bring home Hernandez. den Hoed then stole second base and went to third on a fielder's choice.
Abby Bangs drove in den Hoed to make the score 2-0 in the Lady Knights favor. Jacqui Roberts reached first on an error and she then stole second base. Tori Van Wingerden then hit a double which drove in Roberts for a 3-0 lead.
LaSalle got one back in the top of the third before SCHS posted three more runs to finish out the inning.
LaSalle then scored one run each in the fourth and fifth innings. SCHS added one in the bottom of the fifth for a 7-3 lead.
In the bottom of the sixth inning, Leah Bosma got a base hit and then stole second base. Melanie Van Wingerden hit a triple which brought home Bosma. Roberts then brought home Van Wingerden with a sacrifice fly.
Tori Van Wingerden's base hit ended up a double on a passed ball. Courtney Rice was walked and then the bases were loaded when Brittany den Hoed walked.
Emma Newhouse's sacrifice fly brought home Tori Van Wingerden and Emily Hernandez hit a base hit to score Rice. That brought a close to the four-run sixth inning.
Hernandez went 2-for-3 with two RBIs. Tori Van Wingerden hit 3-for-4 with an RBI and Leah Bosma was 2-for-3.
In the second game, the Lady Knights found themselves behind after three innings, 3-2.
In the fourth inning Rice walked and moved to second on a passed ball. She then stole third and came home on another passed ball to tie the game at 3.
Newhouse then walked and ended up stealing second base. Jamie Sveen hit a fielder's choice which moved Newhouse to third. Naomi den Hoed then drove in Newhouse to give SCHS its first lead in the second game.
The Lady Knights' defense held up and the offense added two more runs in the bottom of the sixth for the victory.
Roberts went 1-for-3 in the second game. Hernandez hit 1-for-2 as did Naomi den Hoed. Melanie Van Wingerden was 1-for-3.
"It wasn't one of our better played games," SCHS Coach Sandy Harris said. "We made some errors and didn't hit the ball that well in the second game. I have five freshman playing now and I thought they all did very well."
The Lady Knights (4-0, 6-2) travel to Wahluke Saturday, April 15 to participate in the Wahluke tournament.