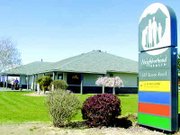 A crowd estimated at more than 100 people turned out Wednesday, April 12, for an open house of Yakima Neighborhood Health Services' new Sunnyside office at 617 Scoon Road.
Neighborhood Health has been in Sunnyside since 1981, moving from an office at Seventh Street and Edison Avenue to the Scoon Road site about six months ago.
Public Health Administrator Mary Jo Mengarelli said remodeling of the former Bovine Herd Health building has just recently been completed, including the creation of office space, work areas and a waiting area complete with a children's corner. The improvements also include a lactating room to help and encourage women in breastfeeding their children.
Tile flooring throughout the office is tempered by quilts placed as wall decorations. "We see a lot of children here, so it's nice for them to have something that feels like home," Mengarelli said of the quilts which hang on just about every wall of the place.
With a capacity of 6,000 square feet, the Scoon Road office gives Neighborhood Health twice as much elbow room than the former location.
"It's like a culture change, that (former office) building was from the 1970's" said Janine Grenz, a public health nursing supervisor with Neighborhood Health since 1994. "The other building was darker, it's nice to work in brighter lighting."
Grenz said those seeking services at Neighborhood Health have also noticed a difference, "There's more room; they really appreciate it."
Mengarelli said the new office allows Neighborhood Health to expand its maternity support services. That includes nutritionists, counselors, educators and case managers, who help prepare new parents for the demands of pregnancy and caring for a new baby.
She noted that the clinic will also be able to expand its Women Infants Children (WIC) Nutrition Program. The WIC program is a supplemental food and nutrition education program for pregnant and breastfeeding women and young children. Clients who qualify for WIC receive food, nutrition education and referrals.
The move will create opportunities to connect qualified families to community resources, added Mengarelli.
The Sunnyside offices are located at 617 Scoon Road, and can be reached at 837-8200.
. John Fannin can be contacted at (509) 837-4500, or e-mail jfannin@eaglenewspapers.com
John Fannin/Daily Sun News
State Representative Bruce Chandler visits with Yakima Neighborhood Health CEO Anita Monoian during an open house in Sunnyside yesterday.