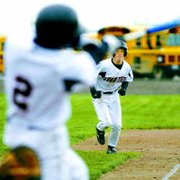 There's nothing like non-league play to give the Sunnyside baseball team a boost.
The diamond nine are still looking for their first league win, but flexed their muscles big time with a convincing 9-1 home victory over non-league foe Hermiston yesterday.
Gibby Briones pitched four innings of one-run baseball to improve his record to 2-0 for Sunnyside. The Grizzlies as a team improved to 4-8-1 overall, and 0-5 in league.
Briones' brother, Timmy, helped the home cause with a 2-for-4 day at the plate, good for two home runs and five RBI.
Joel Zakahi was 4-for-4 at the plate, accounting for three Sunnyside runs batted in.
"We have a really good baseball team," said Coach Dave Martinez. "Our wins have come against good teams, Bellingham, Rochester, Hermiston. If we play like that in league, our record's a lot different."
Martinez added, "We've seen the best pitching, now it's a matter of executing."
Sunnyside returns to action next Saturday, April 22, for a home contest against Wapato.
HER 010 000 0 1- 2-2
SS 320 013 0 9-10-0