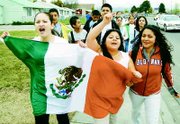 Protesting U.S. immigration proposals, 78 Sunnyside middle school and high school students walked out of classes at about 9 a.m. today.
Students from the high school, as well as Chief Kamiakin and Harrison Middle Schools left classes despite warnings from staff posted at all entry ways and just outside the buildings.
The protest took an ugly turn when six students left the march and tromped on an asparagus field at the 2000 block of East Edison Avenue.
Sunnyside Police Sergeant Kent Coffman said the students damaged the field and were arrested. He also confirmed a report that one student had resisted arrest. He could not determine as of press time which of the students were of high school or middle school age.
"They were arrested for trespassing," he said this morning. "We're trying to get a hold of the parents." Coffman indicated the charges, which may include malicious mischief, will be brought forward to Yakima County Juvenile Court.
The protest began on Edison Avenue but spread to other areas, including Sixth Street in downtown Sunnyside and the Yakima Valley Highway.
The school district, which has 1,400 students in the high school and 5,000 total enrollment, felt it minimized student participation in the protest.
District spokesperson Julie Kaplicky said parents received a note yesterday informing them that the school district did not condone the walk out, and could not guarantee the safety of students participating in the walk-out.
"Seventy-eight is not a huge number, many are choosing a letter writing campaign to Senator Maria Cantwell," said Kaplicky.
In response to the walk-outs, both middle schools had an external lock down, in which only the main entrance is available for re-entry.
Kaplicky explained the action was not to keep students in, but to keep track of those students who may return from the walk-out.
Further, attendance was taken during each class period to track those participating in the walk-out.
Kaplicky said the walk-outs will be treated as an unexcused absence, with detention possible in some cases.
In anticipation of this and future walk-outs, leadership students at the high school and Harrison spoke by phone with representatives from Cantwell's office. The session served to both inform the students, and provide encouragement for writing formal protest letters to the Senator, said Kaplicky.
A May 1 walk-out is also rumored and the district plans to further beef up preventative measures with a video presentation to students on details of the immigration proposal.
In addition, school libraries and facilities will be open extra hours before and after the school day to allow students to write letters of protest to Cantwell's office.
"We sympathize with the issues, but there are better things students could do; organizing after school or writing letters," Kaplicky said.