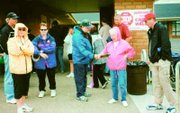 Local church-goers are renewing a tradition of the annual CROP Walk fundraiser to help fight hunger locally and around the globe.
This year's event is Saturday, April 22, at 10 a.m. and will begin and end at Chief Kamiakin Elementary School. Participants will gather for the two-mile walk at Chief Kamiakin, located at Lincoln Avenue and 16th Street.
One of the organizers, Pastor Michael Hughes of the First Baptist Church in Sunnyside, said the CROP Walk here is part of a nationwide, interfaith push to end hunger. Altogether, 2,000 cities and towns around the country will participate, he said, walking in solidarity with the theme "Walking Together."
Among areas to benefit from the CROP Walk will be African villages in need of clean water and communities recovering from Hurricane Katrina.
Locally, a portion of the CROP Walk funds raised here will be designated for the Sunnyside Ministerial Association Christian Care Ministry.
CROP Walk participants are asked to raise funds by obtaining financial pledges for their two-mile walk. The event is open to the public, and Hughes suggested those interested contact their local church pastor.
Information is also available by calling Hughes at 837-2734.