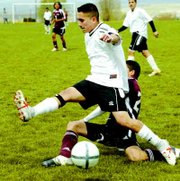 GRANDVIEW - The tide turned Wahluke's way in the second half this past Saturday, as the Warriors rallied from a 1-0 halftime deficit to clip the Grandview High School boys soccer team, 3-1.
The league loss dropped the Greyhounds to 3-3 in conference play, 4-6-1 overall.
Wahluke punched in the winning shot on a penalty kick in the 63rd minute, taken by Ernesto Rodriguez. He was also credited with an assist in the game, on a Ruben Medina goal nine minutes into the second half that squared the contest at 1-1.
The Warriors added an insurance goal two minutes prior to the game ending, when Jairo Rubalcava found the back of the Grandview net.
Grandview forged a 1-0 lead on the Warriors in the 17th minute, when Steve Jacobo headed the ball past the Wahluke goalkeeper. The header came on a free kick that Abel Romo centered out in front of the Warrior goal line.
Saturday's game was a tale of two halves. The 'Hounds dominated in the opening 40 minutes, controlling not only the ball but the tempo, as well.
After intermission, it was a different story, however.
"They put us on the pedal in the get-go," Grandview Coach Anne Holden said of the start of the second half.
Besides benefiting from a strong wind at their backs, the Warriors picked up their intensity and simply put, out-hustled the Grandview players.
"Wahluke beat us to all the 50-50 chances," Holden said of the Warriors' second half play.
"We didn't show up the first 20 minutes of the second half," she said. "It was more mental than anything."
Grandview actually awoke from its slumber when Rodriguez scored to make it a 2-1 game.
"All of a sudden we were down 2-1 and we kind of came alive," said Holden.
The Greyhounds began rallying and set themselves up for several scoring opportunities, but none of their shots found the net. The best opportunity came and went when a free kick deflected off the cross bar of the Wahluke goal.
Grandview is scheduled to host East Valley tomorrow (Tuesday). The varsity game has been pushed up two hours to 4 p.m.