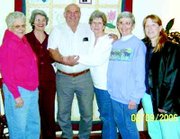 Seven Lower Valley volunteers recently completed patient care and/or bereavement training through Lower Valley Hospice and Palliative Care.
The volunteers will spend two to four hours a week helping families through a most difficult period of time.
"These volunteers, directly or indirectly, help patients and families live every day as fully as possible," said Hospice spokesman Carol Bos. "And they make a difference in their own lives.
"Hospice is about how you live," she said.
Hospice volunteers also serve indirectly by assisting with office opportunities, as well as at the HoBS (Hospice Benefit Shop) in Prosser.
The recent completion of the seven volunteers' training coincides closely with National Volunteer Week, designated for April 23-29. The week has been set aside to honor all volunteers who give selflessly of their time and talent to serve those in need.
According to Bos, no where is the importance of volunteering more strongly seen than among the nation's hospice program.
"Hospice volunteers accompany people on one of life's most challenging journeys-the end of life," Bos said.
She said there is a common misconception that hospice is about giving up and giving in.
"That's not at all true-and hospice volunteers know this firsthand," said Bos.
In fact, she said, many volunteers come to hospice after experiencing the special care hospice provided to a loved one. Bos said patient care volunteers provide compassion, friendship and dignity at a time when they are needed most.
"They may hold a hand and listen, read to the patient, run an errand, step in when a family member needs a break from caring for their loved one. And, may even be there for the family and friends after their loved one has passed away," said Bos.
Those interested in becoming part of the Lower Valley Hospice and Palliative Care team are asked to contact Bos (837-1676).