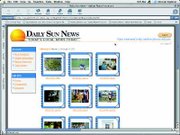 Taking 75 or 100 photographs during an event such as Sunshine Days, then publishing six or eight of them in the following day's paper is not unusual at the Daily Sun News or any other newspaper.
Then there are the sporting events, where maybe one of several photos is used in the paper and available to the public.
But that all changed last Friday when the Sunnyside newspaper launched a new photo service on its website, www.dailysunnews.com.
It allows visitors to view and buy any of the photos in the Daily Sun News newspaper, as well as all the other photos that were not published.
Now all photos from an event can be viewed on-line, not just those that make it in the paper, said Daily Sun News Publisher Tim Graff.
"It's a simple, straight-forward system that provides a service we couldn't provide," Graff said of the MyNewsPhotos.com link the Daily Sun News website now posts in the form of a blue dot near the upper right corner.
Graff said a sister newspaper in Idaho went with MyNewsPhotos.com and that prompted him to put the service to work for this newspaper. "Its parent company has been in the photo processing business for more than 40 years," Graff noted of MyNewsPhotos.com.
Visitors to the Daily Sun News photos site can view any of the photos from previous news and sports stories. They will need to enter a user name and password, then a credit or debit card number to buy photos ranging from wallet size to 24"x36". In addition, the photos can be purchased in the form of mouse pads and coffee mugs.
The pictures are ordered on-line and then shipped directly to the customer's mailing address.
Daily Sun News staff photographer Rod Smith said the entire process offers a much more streamlined approach for ordering news photos.
"We don't have the capability here to print photos," Smith said. "We'd have to send away to have them processed. This will make it much easier for people to order photographs.
"It's kind of nice," he said of the new online photo viewing and ordering service. "There's always a couple of photos (from an event) that you wish could run that don't make it in the paper," he added. "This way, those photos can still be seen."
Smith downloads the photos from each day's papers by the end of that business day.
And the pictures-whether they be sports, a Rotary speaker, or a weekend event-remain on the site for up to a year, noted Graff.
"I would hope it would encourage us to take even more photographs of an event," Graff said.
Smith agreed.
"It may change the way we take pictures," he said. "I know for me there are pictures I wouldn't have taken before that I take now because people will be able to see them on-line."