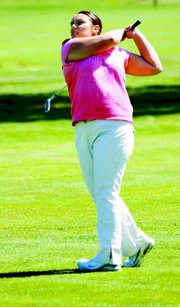 Neither the Grandview boys nor girls golf squads turned in noteworthy performances yesterday in CWAC South League play.
The Greyhound boys team, competing at Toppenish's Mt. Adams Country Club, settled for a third place finish from the five-school field.
In girls action Tuesday afternoon, Katie Veloz was the lone Grandview girl to compete. The CWAC South girls match was staged at Sunnyside's Black Rock Creek Golf Course.
Veloz never could get on track yesterday. She opened with an inauspicious 63 on the front nine, ballooning to a 70 on the back side. Her 133, 18-hole total was well off the pace of the 10-over-par 82 carded by medalist Kimberly Schutte of Othello.
"Katie was trying out some new clubs yesterday," said Grandview Coach Scott Parrish. "It didn't go so well."
Veloz had shot in the 90's in her three previous outings.
The Schutte-led Othello Huskies posted a 370 team score yesterday. Othello had the only complete girls squad in the CWAC competition.
The Huskies also won the boys league match Tuesday at Toppenish, upping their conference mark to 12-0 on the season. Othello received an even-par 72 from medalist Jason Brault, as well as a 74 from Bart Pattatucci. The Huskies' team score of 323 easily eclipsed second place finishing East Valley, which tallied a 366. The Red Devils were led by Steven Dobbs and Matt Dillinger with scores of 87 and 89, respectively.
Grandview finished two strokes back of East Valley with a 368. Senior Andrew Michels posted the low individual round for the Greyhounds, an 82, but it was well off his season best.
"Andrew had one or two bad shots that he really paid for," said Grandview Coach Dave Uggetti, explaining that Michels opened with a front nine 43 before getting into a groove and shaving his back side score to a 3-over 39.
"It was the first time this season Andrew hasn't shot in the 70's," Uggetti said.
Grandview also got a 94 and 95 from Kaelan Nelson and Aaron Riggs, respectively. Nelson posted identical 47's on the two nines, while Riggs opened with a respectable 44 before stumbling to a 51 after the turn.
Rounding out the team scoring for the 'Hounds was Kyle Womach's 100 (49-51).
Uggetti said David Trevino was on pace to shoot in the 90's, but became ill midway through his round and had to withdraw.
"If David had been able to complete his round, we would have finished ahead of East Valley and taken second in the team scoring," said Uggetti.
Finishing behind the Greyhounds in the fourth and fifth place positions were Naches and Toppenish, respectively, with scores of 371 and 397. The Rangers were led by Gavin Shinn and Derrick Schneider with a pair of 89's, while Toppenish's low scorer was Adam Story with an 82.