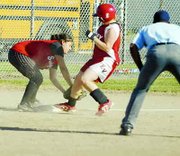 The Sunnyside Lady Grizzlies played good softball for three solid innings before letting errors and walks ruin their day, losing to East Valley 9-5 Tuesday afternoon.
Jessica Espinoza took the mound for the Grizzlies and was solid for two innings, only giving up one run in the second.
In the third, East Valley scored three runs. "We gave up two walks in the third inning and those runs came into score," Sunnyside Coach Ralph Mendoza said.
In the bottom of the third inning Sunnyside's bats came alive. They pounded out five runs to take a 5-4 lead.
In the fourth inning pitcher Sammi Garcia took the mound for the Grizzlies but the errors and the walks continued as East Valley took the lead with two runs. They added three more runs in the fifth inning to ice the game.
"Overall it was a great game," Sunnyside Coach Ralph Mendoza said. "It comes down to fielding and more repetition. We're giving teams five or six outs in an inning. That makes it difficult for us."
Victoria Ramos went 1-for-3 for the Grizzlies with two RBIs. Maggie Fernandez hit 1-for-4 with two RBIs. Jessica Cruz, Marina Martinez and Lacey Yanez each went 1-for-4 also.
"We're peaking," Mendoza added. "There are vast improvements going on. We were able to hang with East Valley and that's a positive thing. There is a lot of softball learning going on. Our goal is to get into Districts and go from there."
The Lady Grizzlies (0-2, 3-6) will host Selah Wednesday, April 26, at 4 p.m.