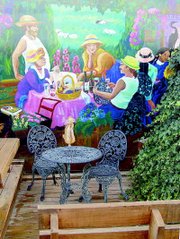 Although barrel tasting at wineries in the Yakima Valley will get underway the weekend of April 28, Rattlesnake Hills Wineries are getting a jump on the spring event by beginning its barrel tasting this weekend.
In part, the special leap into a new season is being taken because Rattlesnake Hills was federally designated an American Viticulture Area (AVA) this year, a mandate that became official March 20, 2006.
Fifteen wineries off I-82 from exits 40 to 63 will offer tastes straight from the barrel of the newest releases April 21-23.
This weekend's wine experience in the Rattlesnake Hills will include some things other than wine to tease away the winter doldrums.
For instance, Bonair Winery will host the Society for Creative Anarchism in full battle dress on Saturday, April 22. Photographer Roger Altoff's vineyard art will be on display there, also, and various artists will turn out to turn wine barrels into art objects.
"They do odd things with the barrels, turning them into art, and it's a lot of fun," said Shannon Bird, media specialist for the Rattlesnake Hills Wine Trail.
Bonair Winery can be reached by taking Exit 52 off I-82 and following the signs that lead one from Cheyne Road to Highland Drive and then to Bonair Road on which the winery is located.
Artist Jacob Lee of the Glass Kaleidoscope will be at Piety Flats, a winery on Donald/Wapato Road that can be reached from Exit 44 on I-82.
Tefft Cellars, the Rattlesnake Hills winery that is closest to Sunnyside, will have a reservations-only tasting and dinner on Saturday, April 22. But it, like the other 14 wineries, will be open for barrel tasting from 10 a.m. to 5 p.m.
The real entertainment will be the wine tasting at which winemakers will offer samples of their wares while discussing grape cultivation, fermentation or the fruit forwardness of the barrel wine.
Most winemakers believe barrel tasting is for education, not only of their newest releases, but for the art of tasting the fruit of the vine, which were made and refined in the newest AVA, according to Bird.
"Be sure to ask the winemakers about their new AVA!," Bird encouraged.
She said wineries will be less crowded at this preview barrel tasting event, making it easier to chat with winemakers and winery staff.
Successive barrel tasting weekends will feature Spring Barrel Tasting in the Yakima Valley on April 28-30, with wineries throughout the upper and lower Yakima Valley participating, and a barrel tasting in Walla Walla on May 5-7.
The Rattlesnake Hills Wine Trail, a non-profit association of the wineries within the newest AVA in Washington state, is dedicated to providing a fun and educational tasting experience, vineyard tours and entertaining events open to the public year-round.
For more information on the Rattlesnake Hills Wine Trail, access its website at www.rattlesnakehills.com.